*Increased monthly benefits for current CalFresh recipients due to COVID-19*
Also available: Pandemic-EBT for kids (not CalFresh)
The Community Park partners with local community organizations and farmers to offer fresh food and outreach services to the Southern Humboldt community. The Park strives to be a food hub by linking local farmers to existing food delivery programs, and to local families through our CalFresh Outreach program.
We partner with Humboldt County DHHS's CalFresh Outreach Program to serve the rural and hard to reach populations of Southern Humboldt. In addition to offering CalFresh application and re-certification assistance, we deliver weekly baskets of fresh food from spring to fall. These baskets contain locally grown produce, meat and eggs, as well as literature with recipes and nutrition resources.
Produce comes from local Southern Humboldt farms, including The Community Park Farm located at the Park, Flood Plain Produce, Fair Curve Farm, Feisty Dog Orchard and over a dozen other local organic farms and ranches. These supply fruit, vegetables, meat, and honey. Our program is one of many local programs that subsidizes the cost for eligible families, seniors and local safety-net organizations providing food to those in need. Such organizations include the Garberville Food Pantry, the Healy Senior Center, the Family Resource Center, and WISH Women's Shelter.
Participating individuals and families are usually connected with other service organizations: Southern Humboldt Family Resource Center, Beginnings School, Healy Center, and Community Cornerstone.
In the 2021 summer season, more than 22,000 fresh meals were supplemented locally through our CalFresh Outreach program. It is likely we will contribute to more than 20,000 meals during the upcoming 2022 season.
Please note: the Park office is not in full compliance with the Americans with Disabilities Act. Southern Humboldt Community Park and the CalFresh program are committed to serving all residents regardless of ability. If you would like assistance by phone, a list of outreach locations or to schedule an appointment, or alternate methods for services please contact Laura, or e-mail info@sohumpark.org. If you would like to visit the facility and require curbside assistance, please call 707-923-2928.
Encouraging a Healthy Lifestyle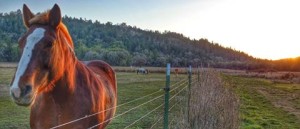 The Park also encourages health and well-being through access to safe outdoor recreation. The Park, its farm, farm animals and 3.5 miles of easy trails and the various facilities such as the Disc Golf course and Skate Ramp offer participants numerous opportunities for fun exercise and enjoyment of the beauty of the land. Many find it a pleasure to incorporate recreation into their daily routine in this beautiful natural setting.
---
About CalFresh

The CalFresh Program known as SNAP (Supplemental Nutrition Assistance Program) provides nutrition assistance to people with low income. This program allows you to purchase fresh foods at grocery stores and even Farmers Markets through the use of an EBT debit card. You can apply for a household, or for a single individual. This assistance can help add to your food budget to buy nutritious foods for a better diet.
The Southern Humboldt Community Park office provides CalFresh application and re-certification assistance. To find out more about how we can help with signing up or paperwork call or visit the Park office.
---
Resources
For more information about healthy living and nutrition assistance, you can contact the Department of Health and Human Resources for CalFresh information.
Garberville DHHS Office
727 Cedar Street, Garberville, Ca 95542
(707) 923-2779
Eureka DHHS Office
929 Koster Street, Eureka, Ca 95501
(707) 269-3590
Or visit GetCalFresh.org for online applications and assistance.
Local Resources and Organizations
Those interested in benefiting from these opportunities at the Southern Humboldt Community Park may contact our office at (707) 923-2928 or speak with one of our community partners listed below:
Southern Humboldt Family Resource Center (707) 923-1147
Healy Senior Center (707) 923-2399
Community Cornerstone Inc. (707) 923-9248
Wish Women's Shelter (707) 923-4100
Garberville Presbyterian Church Food Bank (707) 923-3295 (church)