A labyrinth is a soothing exercise in contemplative walking or moving meditation. The Park Labyrinth nestles near the woods along the north leg of the Loop Trail about equidistant from the Park's main entrance and its Kimtu parking lot.
History of the Park Labyrinth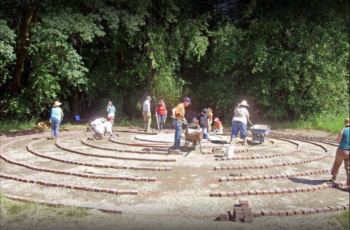 Kay Christian, a physician assistant at Redwoods Rural Health Center (RRHC), and Gillian Brown, a local teacher and labyrinth designer, (who completed her MA thesis on the topic of labyrinths) created the one at Southern Humboldt Community Park.
The generosity of many donors, including the Humboldt Area Foundation, enabled completion of the labyrinth in 2008. RRHC originally held fiscal sponsorship. However, the Park now manages the labyrinth.
A 3000 Year History
Found in many religious and spiritual traditions the world over, the labyrinth is a symbol. Expansive concrete and stone versions of labyrinths on which people walk have been featured in a variety of settings for thousands of years.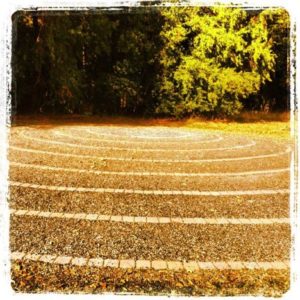 Many people mistake the labyrinth for a maze; the two are very different. A maze is more like a puzzle. The visitor makes choices, attempting to solve it. It has many twists, turns and dead ends, and it presents choices to the person walking through it.
A labyrinth, on the other hand, features one path into the center and one path out. Persons walking through a labyrinth need not make any choices. They simply follow the path to the center and then out again.
Labyrinths are found in churches, hospitals, retreat and meditation centers, hospice facilities and schools. Walking the labyrinth is said to provide a psychic and reflective journey through which the walker contemplates their life in general or a specific problem or challenge.
Ms. Brown describes the benefits of walking a labyrinth:
"It is a soothing and reflective meditation to walk this ancient symbol. People report that it helps them come to balance."
For more information on labyrinths, try reading New to the Labyrinth, a really lovely write-up complete with a video, or the Labyrinth Society web page. Or, you may email Ms. Brown at gb1331@gmail.com.